Found myself in a natural ground blind on the morning of October 5 under a cedar tree. I looked up and seemingly out of nowhere a short racked wide 9 point buck appeared 15 yards in front of me. At this particular spot, I can only see about 25 yards at the furthest point. I sat up a little, drew back and released my arrow. As I did, my upper bow limbs struck an overhead branch. The deer immediately turned after the shot and I saw A LOT of my arrow sticking out of him. It appeared I got very little penetration.

I walked up to the area and found my arrow a short distance from the impact sight. It had lots of good looking blood on about 8 inches or so of the shaft and broadhead. And as I looked I realized I had a great looking bloodtrail. I assumed that when my bow limb struck the branch, my arrow deflected a little bit and I hit shoulder blade and lung, so still possibly a good hit. I should have backed out for a bit but I couldn't help myself because of the immense amount of blood.

After trailing for about 50 yards I found the buck piled up, dead and expired. My first thought was to look at the wound. As I looked, I could not believe what had happened. Apparently, when my arrow deflected from the branch, I actually hit the buck right in his butt cheek. Yup, that's right, no nice way to put it, I shot him right in the ass. Luckily, the broadhead still did an amazing job of cutting a fatal wound into him, presumably hitting his femoral artery. He bled out quickly and thankfully did not suffer.

My lesson learned is to be sure to trim what I need to for a clear shot. And to test draw my bow while sitting in a new ground blind. This experience also gave me more faith than before in the broadheads I use, which was a 2 inch 100gr Swhacker. And as the title states, it is "Only by Luck" that I got this buck.
Last edited by madeforthewoods on Sat Apr 07, 2018 8:08 pm; edited 1 time in total

madeforthewoods

ACTIVE POSTER LEVEL 2





Posts

: 264


Join date

: 2014-08-11


Age

: 41


Location

: West Michigan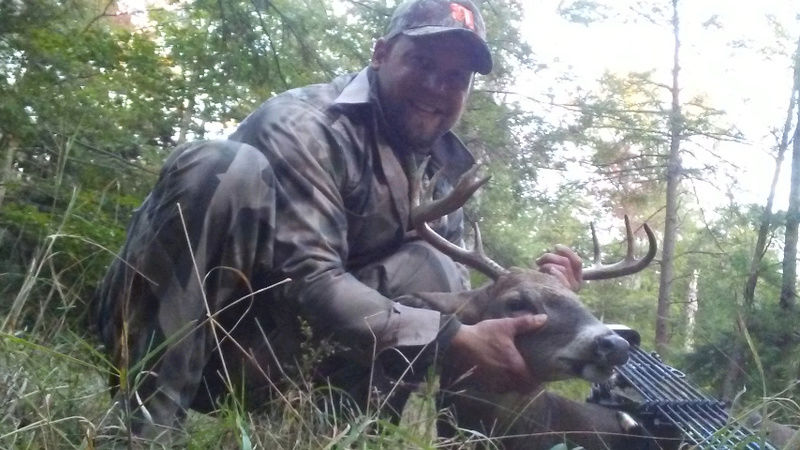 This is the "Only by Luck" 9pt Buck. Shot at 15 yards using a PSE Xforce, Swhacker Broadhead, and wearing my own homemade camo.
Last edited by madeforthewoods on Sun Apr 01, 2018 10:24 pm; edited 2 times in total

madeforthewoods

ACTIVE POSTER LEVEL 2





Posts

: 264


Join date

: 2014-08-11


Age

: 41


Location

: West Michigan




madeforthewoods

ACTIVE POSTER LEVEL 2





Posts

: 264


Join date

: 2014-08-11


Age

: 41


Location

: West Michigan



Like I said, it was a great bloodtrail

madeforthewoods

ACTIVE POSTER LEVEL 2





Posts

: 264


Join date

: 2014-08-11


Age

: 41


Location

: West Michigan




---
Permissions in this forum:
You
cannot
reply to topics in this forum